How rubiTrack works
Whenever you run, cycle, swim, walk, workout in the fitness center or at home, you're recording your training session using your Apple Watch, a GPS enabled fitness device, a heart rate monitor, a step counter or smartphone. rubiTrack downloads training sessions from various devices such as Garmin, Suunto, Polar, TomTom as well as from the cloud through Garmin Connect, Suunto App, Polar Flow and Strava directly to your Mac, where all your data is stored locally.
You can view all your activities together on a map and analyze and compare the data using the chart and data views. All activities are grouped by places, sorted and included in various statistics automatically.
rubiTrack also helps you manage your sports equipment and keeps detailed track of health data such as weight and other body measures. With rubiTrack you can monitor your training progress day by day and year by year and note your future training events.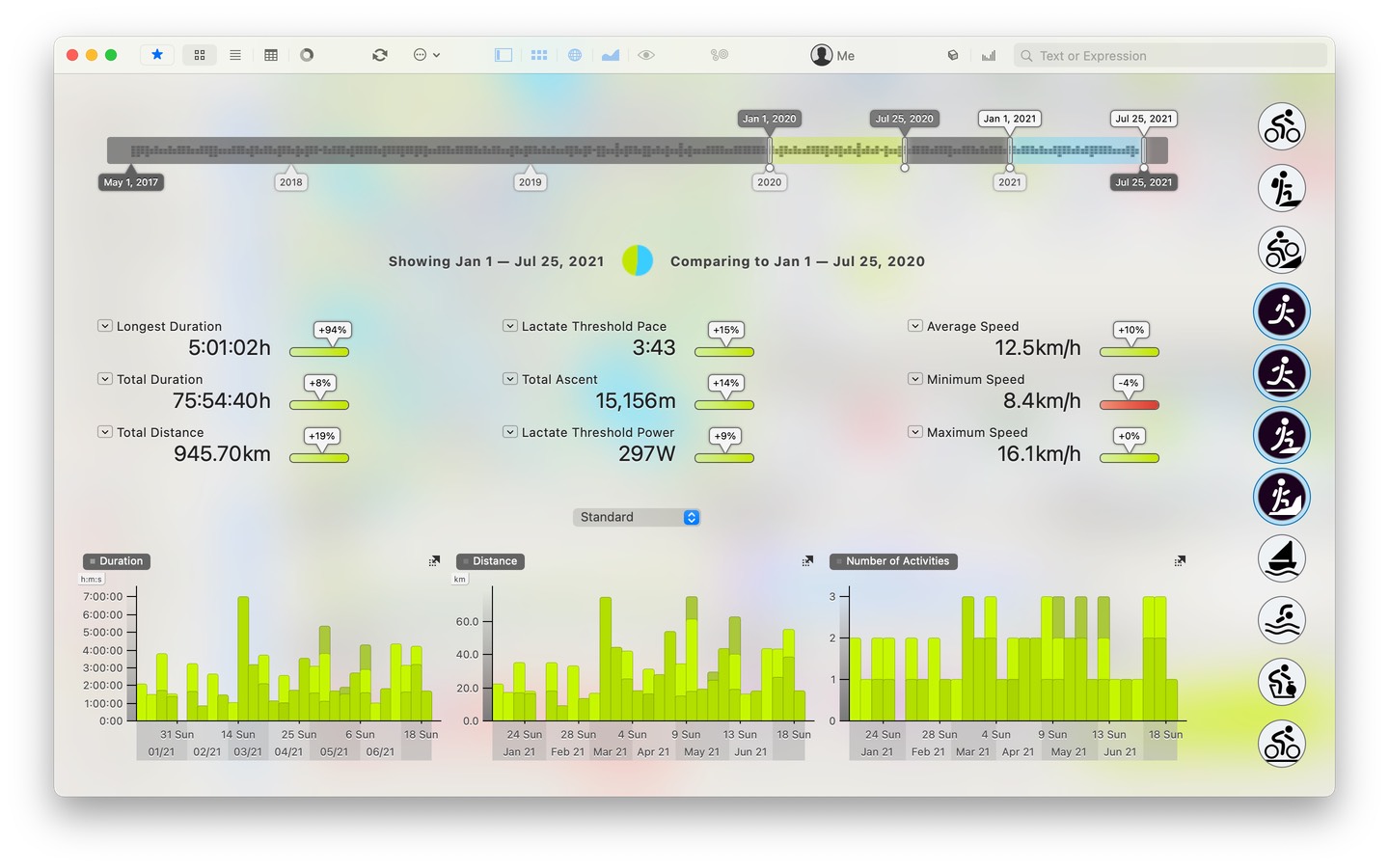 Click or tap to toggle
Getting Started
rubiTrack imports activities from many devices and files, your iPhone and Apple watch and stores them locally on your Mac. For workouts like power or yoga which are not usually recorded using devices, rubiTrack lets you add activities manually.
Activities are easily accessible through the dynamic activity groups which automatically categorize by places, activity type, location, date, distance and more. Activity groups act like filters, when you select one, rubiTrack shows matching activities. Multi-select groups for combining filters, create your own groups and use Quick Search for filtering activities using text or expressions.
Overview in Collection, List, Calendar
rubiTrack displays activities in 3 different ways: The collection view presents activity data such as duration, distance, speed or pace along with an instant track preview.
The list view shows activities as a table in very much detail where you can drill down into individual laps.
The calendar displays activities similar to the collection view, with many values instantly accessible. It comes with three view modes displaying varying level of detail.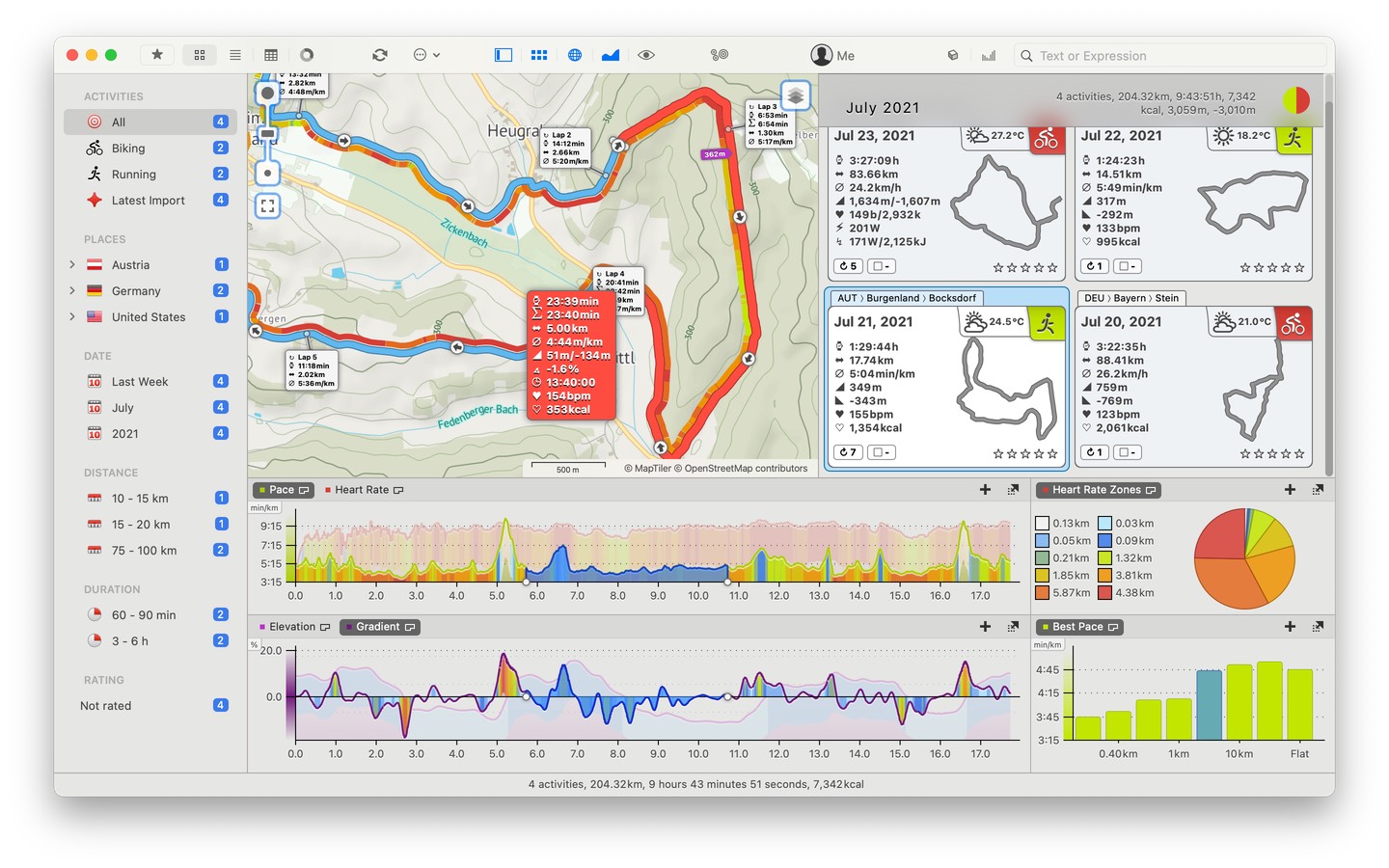 Click or tap to toggle
Flexible Chart
The chart shows diagrams of your activity data such as speed, pace, heart rate, elevation and many other values. The layout is freely configurable, you can split the chart up into multiple areas or have curves stacked.
Features such as continuous 10x zoom, pie charts for zones distributions, multi selection of curve parts, 2-way synchronization with the map and comparison of multiple activities in any curve type make a comprehensive analysis of your training sessions possible.
Stunning Maps and Places
rubiTrack retina maps are based on OpenStreetMap data and provide you with an ideal mapping experience for your outdoor activities.
rubiTrack also comes with satellite imagery providing high resolution, cloud-free maps for the US and Europe and various other map styles. Map features include different decoration styles for zones, multiple tracks, info markers, segments and a visual editor for track point corrections.
In the places mode you can view all your activities together on the map, zoom to activities and select single activities.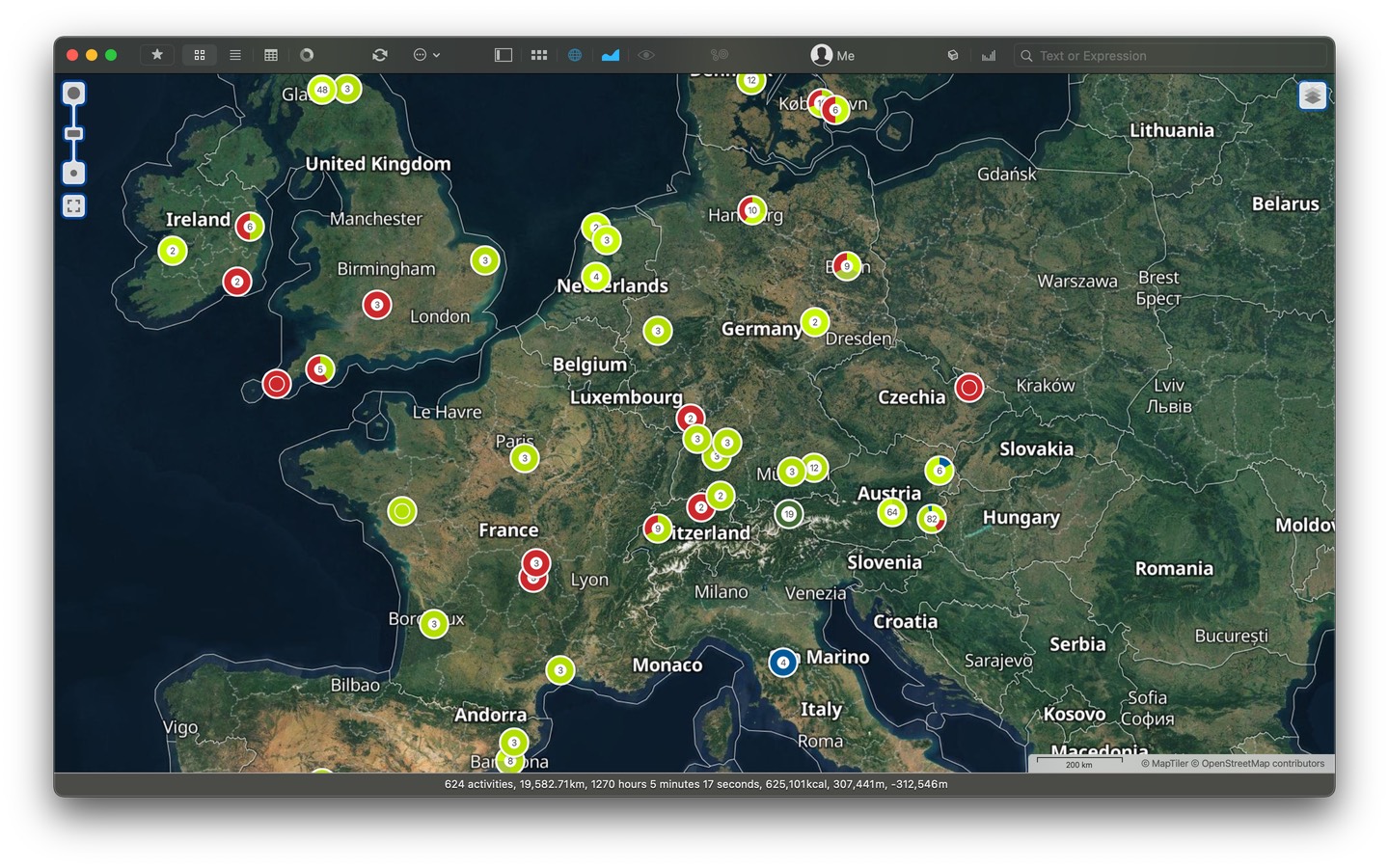 Click or tap to toggle
Athlete Log
The athlete log is integrated into the training summary and enables you to analyze health and athlete related data side by side with your activity data. Keeping track of body measurements like weight, body mass index (BMI), resting, maximum and recovery heart rate, body composition like muscle mass and fat and many many more is what the athlete log does for you.
Measurement data can be added manually or synced from compatible fitness scales (Withings, Fitbit, Tanita). The athlete log present all data in a completely configurable chart.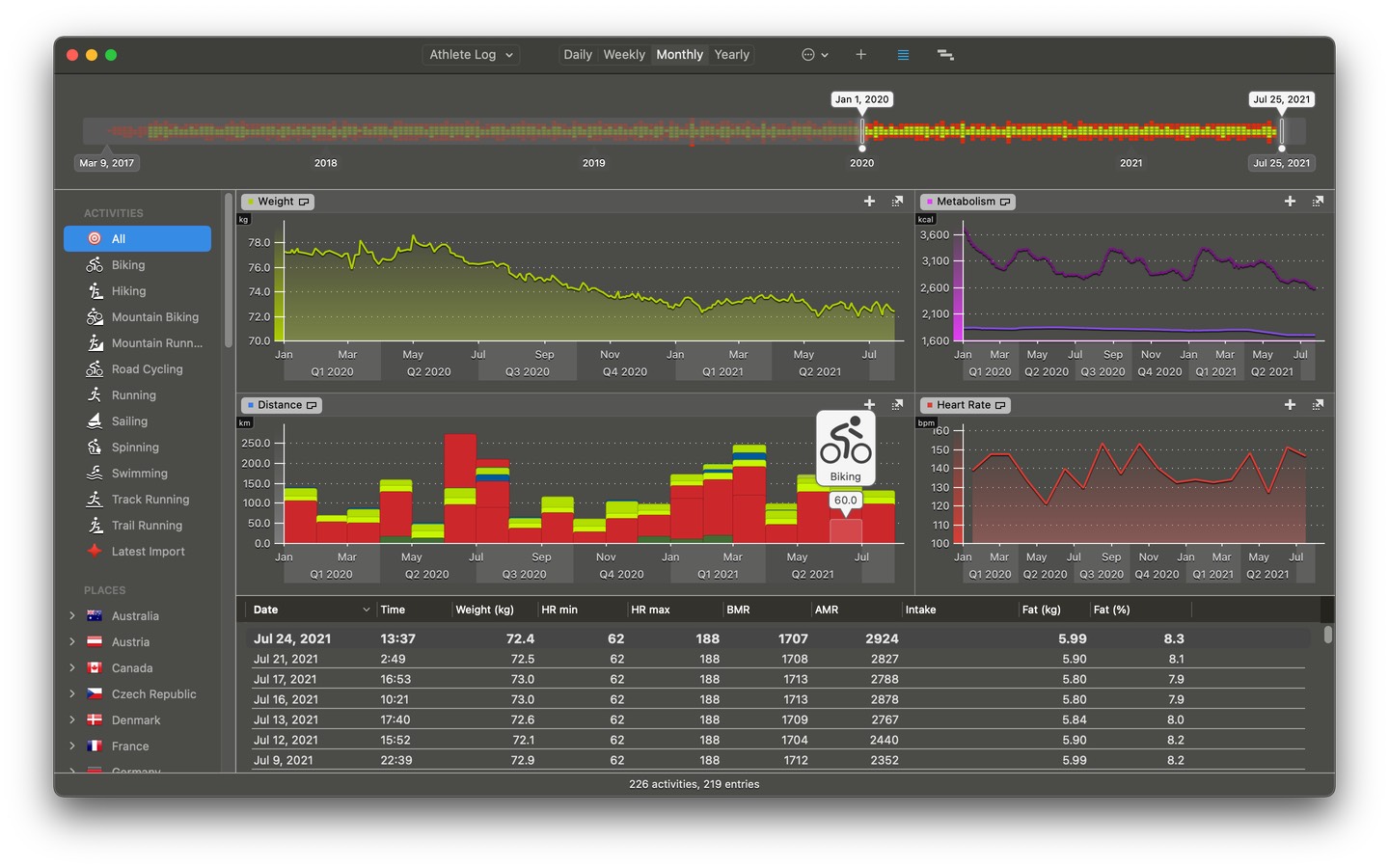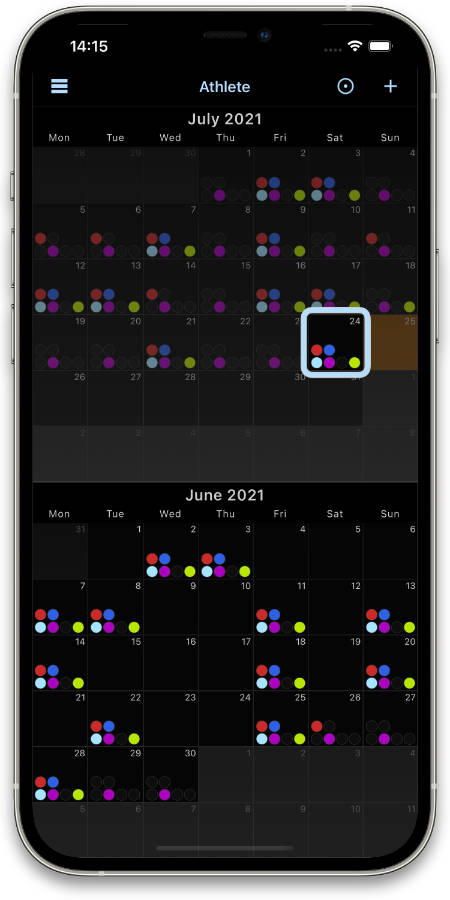 Detailed Training Summary
The training summary provides an overview of your activities over time. It shows key activity data like duration, distance, best performances, calories burned on a timeline based on days, weeks, months or years.
The training summary also provides a way to gauge the training load over time. It comes with charts for short term and long term trainings stress and calculates the stress balance. This makes it easy for athletes to determine if they need to adjust their training regimen.
Time spans can be used to mark certain periods of time like a preparation for a competition, a vacation, a period of recovery after an injury just to name a few.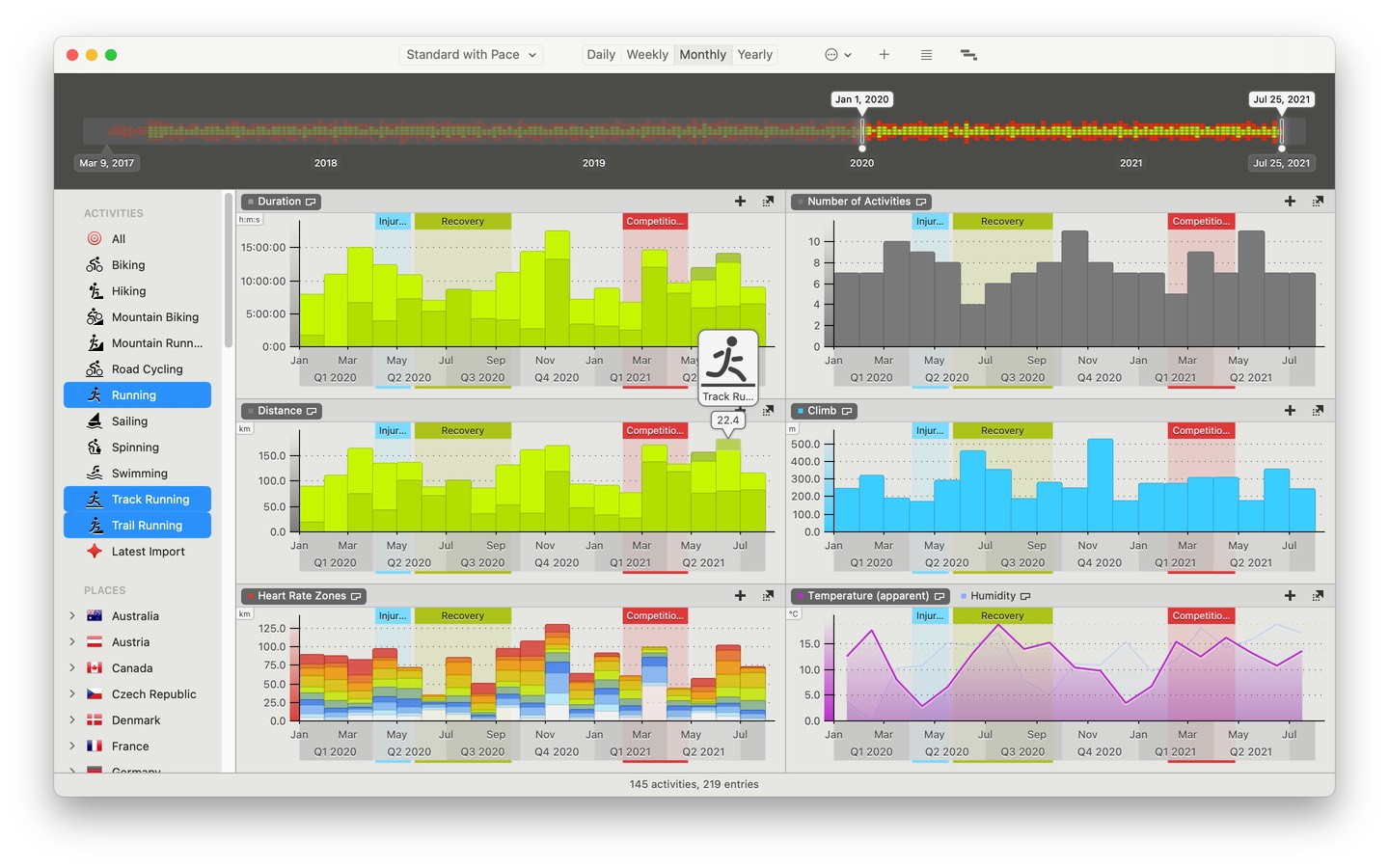 Click or tap to toggle
The Dashboard
The Dashboard provides a quick way to monitor your training progress. It quickly answers questions like this: "What was my total distance in the last 3 months, and how much more was it compared to the same period last year?". It shows a visual comparison between the performance in two different time frames.
The Dashboard also comes which visual performance meters for activity level, pace, speed and power and a quick chart presenting total duration and distance over the selected period as well as your best speed.
Organizing Equipment
Add equipment that you use in your activities and keep track of its usage. You can manage any equipment, from running shoes to GPS devices to complete bikes as a group of individual equipment items.
The equipment usage is counted if you assign items to activities or let rubiTrack assign them automatically. You can set up maintenance warnings, and rubiTrack will alert you via the notification center when you have used an item a given number of times or for a certain duration or distance.
rubiTrack for iPhone
rubiTrack for iPhone comes with many rubiTrack features such as places, activities, calendar, chart, track, activity details, equipment, training summary including performance analysis and the athlete log.
It auto-syncs activities recorded with the Apple Watch and health data from the Health App and auto-syncs your entire training database with rubiTrack 6. In addition you can use the fully customizable Recorder and external bluetooth sensors to record activities.